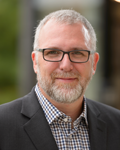 I'm a computer scientist with expertise and interests in visualization, large-scale data analysis, and the development and deployment of research infrastructure in support of science.
At Argonne National Laboratory, I am the deputy associate laboratory director for Computing, Environment and Life Sciences and the director of the Argonne Leadership Computing Facility.
I am also the 2020 Presidential Research, Scholarship and Artistry Professor at Northern Illinois University's Department of Computer Science, where I teach courses in data structures, visualization and virtual reality and co-lead the data, devices and interaction laboratory with Joseph Insley from the NIU School of Art and Design.
Contact:
Argonne National Laboratory
9700 South Cass Ave.
Building 240, Room 4134
Lemont, IL 60439
Phone: (630) 252-8600 (Kathy DiBennardi)
[email protected]
Northern Illinois University
Psychology/Computer Science Building
Room 559
DeKalb, IL 60115
[email protected]
ddiLab
Psychology/Computer Science Building
Room 55